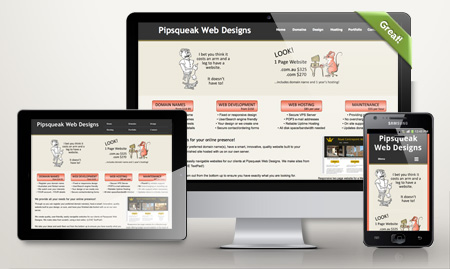 We provide all your needs for your online presence!
Through us you can register your preferred domain name(s), have a smart, innovative, quality website built to your design, or ours, and have your finished site hosted with us on our own private server.
We create quality, responsive, user-friendly, easily navigable websites for our clients at Pipsqueak Web Designs. We take your ideas and work them out from the bottom up to ensure you have exactly what you are looking for.
• Register your domain name
• Australian and global names
• We watch over your interests
• YOUR account...YOUR details
• Responsive design
• User/Search engine friendly
• Your design or ours
• Secure contact/ordering forms
• NOT a shared server!
• Secure VPS server
• SSL certificates available
• Plenty of space/bandwidth
• Providing reliable support
• No overcharging or rounding up
• On site support when necessary
• Updates done in a timely manner
---
Contact us for an obligation free quote!
Phone0455 322 277
---
About Us
We are two 'older ladies' who enjoy creating websites and love travelling. We are now permanently 'on-the-road' seeing as much as we can of this great country.
If you see us in your part of the world, give us a wave!
If you would like to discuss a website for your business or hobby, call or text us on 0466 927 942. If no answer, we may be in an area of no access. Please try again the next day.
Where are we now? In Maryborough, Queensland.