Responsive Web Design
Responsive web design is a way of making a website that works effectively on desktop browsers, tablets and smart phones, regardless of the operating system.
The layout changes based on the size and capabilities of the device. For example, on a phone, users would see content shown in a single column view; a tablet might show the same content in two columns.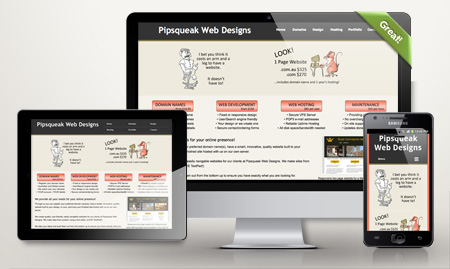 We provide all your needs for your online presence!
Through us you can register your preferred domain name(s), have a smart, innovative, quality website built to your design, or ours, and have your finished site hosted with us on our own server.
We create quality, user-friendly, easily navigable websites for our clients at Pipsqueak Web Designs. We DO NOT use CMS (Content Management Systems). We make sites from scratch, using a text editor. (LOVE TextPad!) We take your ideas and work them out from the bottom up to ensure you have exactly what you are looking for.